Have you ever wondered what happens to old gift card balances that never get used?
Sadly, they often either expire or are forgotten forever. This is great news for big retailers like Walmart and Target.
Think about the millions of dollars that shoppers spend on gift cards each year. Even a small percentage of that kind of money is massive.
As consumers who forget about gift cards, we're basically handing out free loans to major companies. And what's worse, we're never asking those companies to pay the loans back (by using the gift cards).
But that's not the subject we're diving into today. In this review of Raise Marketplace, Inc., I am going to share exactly how to never waste another unused gift card and how to benefit from the gift cards that others don't need.
Enter Raise.
What Is Raise And How Does It Work?
Raise is an online marketplace for both digital and physical gift cards. You can often find Raise gift cards at a discounted rate between 1% and 30%. Think about this for a minute. If you purchased a discounted gift card before making any major (or even minor) purchase, you can save big money with Raise gift cards.
Stack these discounts with store deals and cash back apps for an even bigger chunk of change back in your pocket.
Stores Found on Raise Marketplace
Because Raise is an open marketplace, there is no limitation as to what type of gift card you can buy or sell. Keep in mind that the more popular a store, the lower the discount and the higher the competition.
You will often find popular brands like these on Raise (and many many more):
Best Buy
Lowe's
Nike
Macy's
Sears
Kohl's
Airbnb
Cabela's
iTunes
Target
Walmart
Starbucks
JCPenney
I have noticed, however, that gift cards to the more popular stores get snatched up quickly no matter how little they are discounted. That's because people shop at these stores all the time (with or without the savings).
If you could get a 1 to 5% discount every time you shopped at Target, that extra saving would add up in time!
Additionally, keep in mind that discounted gift cards do not need to be purchased as gifts. You can literally purchase them for household purchases just to save money! I'll share more about this later.
Related: Top 10 Best Shopping Apps for Epic Savings in 2021
Is Raise Legit?
Raise Marketplace is 100% legit. I know this because I have used Raise for more than 3 years now and I've never been swindled.
Raise even promises a fantastic 1 Year Money-Back Guarantee on gift cards that are not active, hold an inaccurate balance, are not as described or are not received within 30 days (physical gift card orders).
In my 3 years using Raise to purchase and sell discounted gift cards, I contacted them two times regarding a specific local coffee shop. When I purchased the gift cards, they mysteriously arrived with no balance.
Raise immediately issued a refund with no question or hesitation. Was I sad that I couldn't get discounted coffee? Yes. But was I happy with Raise's customer service? Also yes.
How to Use Raise
Using Raise Marketplace as a buyer and/or seller is extremely easy. Here are the steps.
How to sell gift cards on Raise
On the top navigation bar, select "SELL GIFT CARDS."
Enter the store name of the card you wish to sell (name typically populates) and select "GET STARTED."
Enter the serial number, PIN, card balance and selling price of your card and select "Continue Listing."
Review the details entered and list your card!
The amount that sellers discount their cards largely depend on current competition. For example, if other cards from a certain store or restaurant are selling at a 5% discount, you may choose to list your card at a 5.1% discount so that your card filters to the top of the list.
Raise gift cards can sell almost instantly or they may never sell. As you list your card, Raise will show the going discount rates for other gift cards to the same store. If you list your card at the lowest rate, it is likely to sell quickly if it's a recognizable brand.
How to buy gift cards on Raise
On the top navigation bar, select "BUY GIFT CARDS."
Enter the store name of the card you wish to purchase (name typically populates) and select the desired result.
Filter the results by discount percent (highest to lowest) to view the best deals. Or filter the gift cards by balance if you need a specific amount (discounted rates will vary).
Select "Buy Now" on the card of choice.
Visit your Raise cart to complete your order by selecting the shopping cart icon and then selecting "Review and Checkout."
Complete your payment details and opt to save them for next time for a quick checkout experience.
Physical cards are mailed to the address provided and digital eGift cards are stored in your Raise account and sent to your email address.
Because Raise gift cards are listed on a live marketplace and sell out at any time, it's important to complete your order within 10 minutes of adding gift cards to your cart. Raise will only reserve gift cards for a short amount of time before returning them to the live marketplace to give others a chance to purchase them.
You can also save stores to your favorites list or sign up for email alerts so that you never miss new discounted cards.
Related: Dosh Review: Is the Dosh App Legit Or A Scam? (Screenshots Included)
More Ways to Buy Discounted Gift Cards
Within the last year, Raise branched out with its business methods and offered an additional opportunity for its members to save money on gift cards.
Raise pay allows you to purchase a gift card and send to the recipient of your choice (including yourself) and receive Raise cash to use toward future gift card purchases. This means that even if no one is selling a gift card to the store you need, you can still purchase a gift card at full price and receive Raise cash in return.
At the time of the writing of this Raise review, 154 brands are listed in the section of stores that allow you to earn Raise Cash. Additional Raise gift cards will be added to this area as they become available.
How to Earn Raise Cash
On the top navigation bar, select "EARN RAISE CASH."
Enter the name of the store you wish to purchase a gift card to (name populates if available on Raise Pay) and select the desired result.
Enter the exact amount of the gift card you'd like to purchase and select "BUY NOW" (Raise instantly calculates the amount of Raise cash you'll earn).
Review your order details and select "SUBMIT ORDER."
When using Raise to purchase discounted gift cards, always compare the Raise Cash percentage against the discount percentage on the Raise Marketplace. You may want to go with the best value in order to save the most money!
Keep in mind that the Raise Marketplace offers an immediate discount whereas Raise Cash offers a credit to be used toward a future gift card purchase. Know the difference because it may affect your buying decision.
How Buying Gift Cards Can Save Money
By now you may be wondering how buying gift cards can actually save you money.
First, it's important to ignore the fact that these are "gift" cards. The word "gift" can be very deceiving when using Raise to save money.
I purchase Raise gift cards for myself. I use discounted gift cards for grocery shopping, clothes shopping, Christmas gifts or birthday gifts, dining and entertainment trips that I already planned to take.
By working discounted gift cards into my normal routine over the last 3 years, I've effortlessly saved $233.97 that I would have willingly spent otherwise.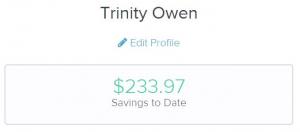 And to be quite honest, I was a little lax at times and forgot to use Raise when I could have. So my savings could have been twice this without changing my spending habits at all.
Raise Gift Cards (Examples)
The two major times that I didn't hesitate to purchase Raise gift cards was when I needed to make some large purchases.
The first purchase was from Lowe's and the second from Cabela's (two major retailers). Because I planned to make these purchases regardless of Raise discounts, the amount of money saved by purchasing discounted gift cards was a welcomed bonus.
Discounted Lowe's Gift Cards
My husband and I purchased our first home in 2015. In the months following we needed more than $467 worth of supplies to complete our privacy fence. Check out the $40 savings we made by using Raise gift cards to purchase our fencing!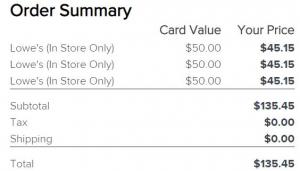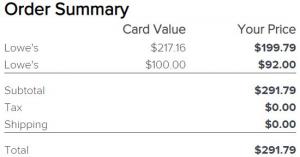 Discounted Cabela's Gift Cards
Another purchase I made with the help of Raise gift cards was for a Cabela's gun safe for my husband's hunting gear. A quick visit to the Raise app while I shopped at my local Cabela's store showed me that I could save about $54 on the purchase.
I purchased the Raise gift cards and used the digital copies to check out at Cabela's a few minutes later!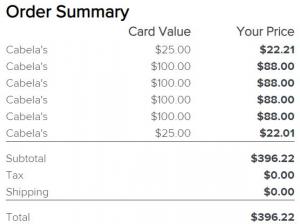 Using this same method at multiple stores can end up saving you hundreds of dollars. And you don't have to use Raise gift cards on large purchases only. Even the small savings add up!
Related: Drop App Review: How to Get Cash Back On Top of Credit Card Rewards
Raise App
This Raise review wouldn't be complete if I didn't mention the amazing Raise App.
Download the free Raise app to your smartphone and take it with you everywhere. Yes, you can shop on your smartphone's browser, but the app offers a user-friendly shopping experience for quickly finding gift cards as you're shopping.
On your way to the movies? Hop onto the Raise app and swipe a $20 gift card for $17.24 (13.8% 0ff).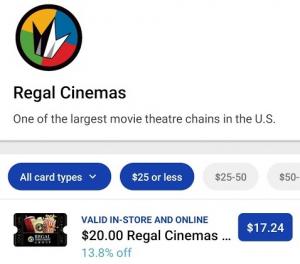 Want to lower the cost of your Starbucks coffee? Pull up the Raise app and grab a $10 gift card for $9. Listen. If you're going to purchase the coffee anyway, then a discounted gift card will only save you money.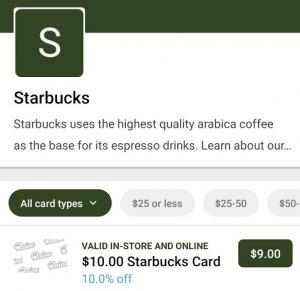 The savings for popular places and stores aren't huge, but they sure add up when you take advantage of them every time you go out!
Related: 22 Best Money Making Apps for Your Smartphone or Mobile Device
Is Raise Too Good to Be True?
You've heard the saying that if it sounds too good to be true, then it is too good to be true, right? Well, gift card users have lucked out with Raise! But that doesn't mean there are no cons to consider.
Raise Cons
While the Raise app comes with plenty of perks, there are also some downfalls to consider.
Human Error
One of the main cons of Raise is that because the gift cards listed are member-generated (card numbers and amounts, for example), that means that human error abounds. Thankfully, Raise's 1 Year Money-Back Guarantee is in place for this exact reason. At the most, you'll need to open a support ticket to have your money refunded if you do happen to purchase a dud.
Digital vs. Physical Cards
A second con with Raise is that not all gift cards can be used digitally and physically. Some stores still only support one or the other. This is something that Raise shows at each purchase so you'll simply need to pay attention when purchasing a card.
Incidents Not Covered
Raise has a few incidents that they don't cover in their 1 Year Money-Back Guarantee, so it's not a 100% guarantee that you'll get your money back for any reason. For example, Raise won't refund for buyer remorse/changed mind, cards merged onto outside business apps or requests received outside of a year from purchase. Though I find these reasons more than fair, there is still the rare occasion that these circumstances happen to customers.
Raise Gift Cards Seller Fees
And last but not least, Raise needs to make their cut like any other online selling platform. The con here is that Raise takes a 15% chunk from each gift card sold. When you're selling a card at a discount already, this 15% makes a big dent. I don't sell gift cards on Raise to make extra cash, but rather to recoup some value from cards that I would never use.
Raise Referral Program
Raise has a fun refer-a-friend program that allows you to gift a $5 credit to friends and family toward their first Raise gift card purchase. In return for your referral, you receive $5 in credit toward your own future purchases. It's a win-win for both you and those you refer!
2021 Raise Review Verdict: Best Place To Sell Gift Cards
I love Raise and I feel they are the best place to sell gift cards. If I didn't love Raise, then I wouldn't have kept them around for the last three years.
Saving a few hundred dollars over the years for working an effortless task into your shopping strategy is well worth it in my opinion.
Give Raise gift cards a try! Here's a $10 credit toward your first discounted gift card purchase. If I can save money using Raise, so can you.
Related: 5 Best Places to Buy and Sell Discounted Gift Cards